Customized PET preform mould manufacture hot runner valve gate
Features
Valve gate
Pin-valve gate ,pneumatic drive the nozzle pin simultaneous high speed open and close action, which can effectively control the injection hole open and close actions on each cavity. Reliable seal function, smooth moving, low thermal expansion rate, long using life and also saves electric energy
Hot runner
Hot runner system is designed and made by ourselves, it can achieve ideal and prompt heating effect for preform production, cavity with lower injection pressure to reduce wear and tear of moldparts
Heat system
With double heating system, it has separate temperature control mode ,the heat bar are used to heat hot-runner mainfold , small heaters supply the heating temperature for cavity nozzle continuously.
Cooling system
Each parts including core ,cavity and valve gate has independently cooling system.
Heat treatment
Mechanical treatment cavity and core to prolong service life ,nitrogen treatment with neck screw. with fitly operation ,guarantee Long using life over 2.0 million times of injection cycle.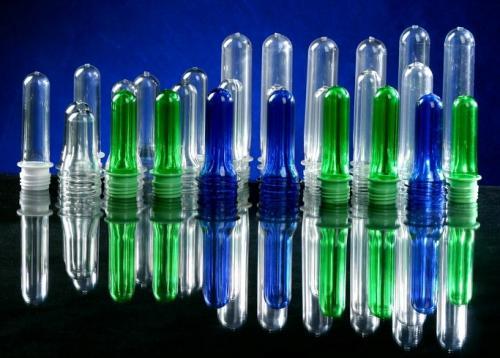 | | |
| --- | --- |
| Mold Description | Pneumatic, pin-valve gate, shut-off, free-cut, PET preform mold with hot runner. |
| Cavity quantities | 6 and 72 cavities |
| Main mold base | P20 steel (Nitrogen treatment, HRC 28-32 degree) |
| Core (punch) and cavity | S136 (Vacuum quench treatment, HRC 43-52 degree) |
| Screw neck (lip) | S136 |
| Heating plate | H13 steel , Chinese standard manifold. |
| Heating ring | ROTFIL from Italy. |
| Temperature controller | PID voltage temperature controller |
| Preform mold configurationAdopted European mold structure; | PET materials go into nozzle tip straightly to improve mold cycle time.Cooling system on cavity, core. If you require,we also design the cooling system on neck (slip).Preforms drop through injection machine central ejector automaticallyThe controller heat Individual cavities, runner and sprue.One Temperature zone control one point temperature.Double-locked, inter-changeable mold components; |
| Usage life(guarantee) | 2,000,000 shots |
| Warranty Period | 2 years |