2Cavity fully automatic PET preform blowing machine output 1800-2000BPH
HP-L series fully automatic linear blow moulding machine is the most stable two-step fully-automatic pet stretch-blow moulding machine(preheat). It has two to eight cavities and the maximum capacity of the products is 2L. It can blow PET bottles for carbonated, mineral, pesticide, cosmetics, wide-mouth, hot filling, and other packing containers.
The advantages
1. Automatic perform input and ready bottle output system.
Machine adopt with the overall structure of super-standard anti-vibration design, high-speed operation state of the machine will shake down to a minimum.
2. Machine adopts modular assembly method, greatly decrease the local amendments due to technological improvements when the machine is on processing.
3. The structure of machine oven adopt the international most advanced energy-saving technology of infrared radiation heating, temperature control with automatic negative feedback, closed-loop regulation model.
4. Automation controlling item adopts international high-end computer system, heating, collecting and measuring perform temperature with simulation input and output module.
5. Man-machine interface displays current production situation, available for on line switching, parameter modification and production accounting, with automatic alarm, automatic fault detection and diagnose.
6. Special designed small machine frame for small bottle up to 600ml with higher output capacity. And another for up to 2L bottles.
7. Multi cavity machine option: 2cavity fully automatic blowing machine, 4cavity fully automatic machine, 6cavity fully automatic machine and 8cavity fully automatic machine.
FULLY AUTOMATIC 4CAVITY PET BLOWING MACHINE
1. Preform Feeding
Fully automatic preform feeding system
Proper preform stabilization device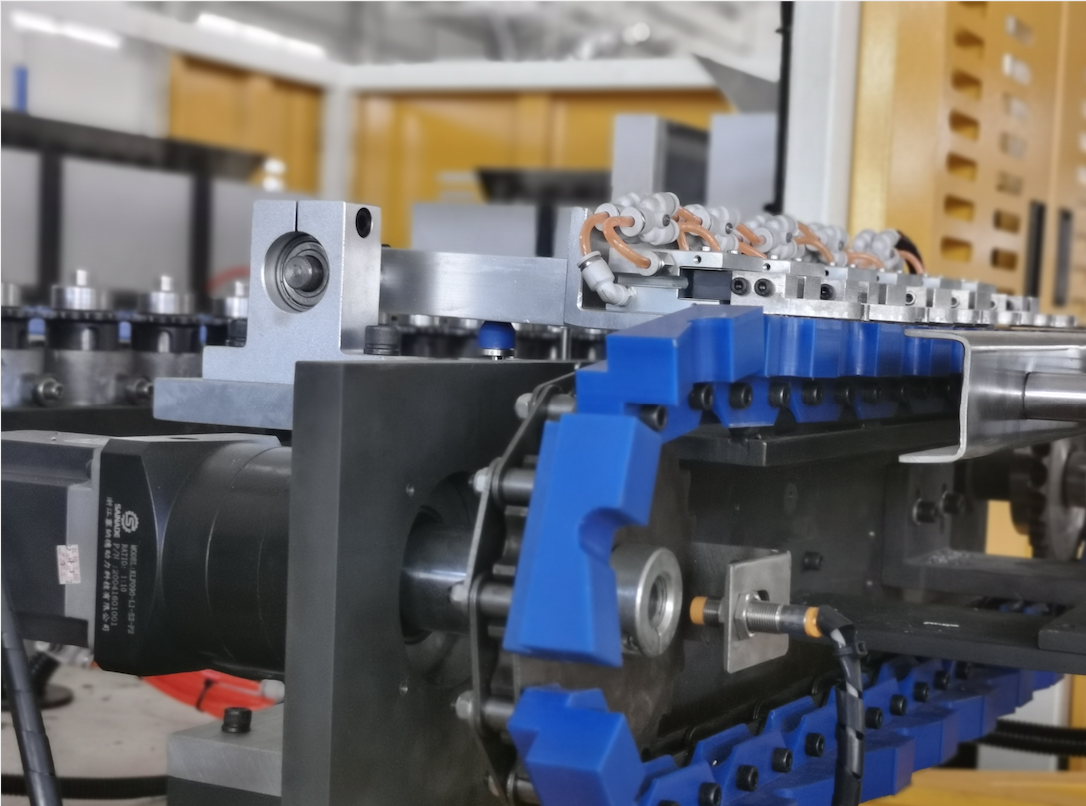 2 . Heating System
Modular oven
Fan system is installed for even heating.
Customized oven dimensions based on preform and max bottle size
Each lamp, each Lamp gripper and each lamp rod is separately adjustable.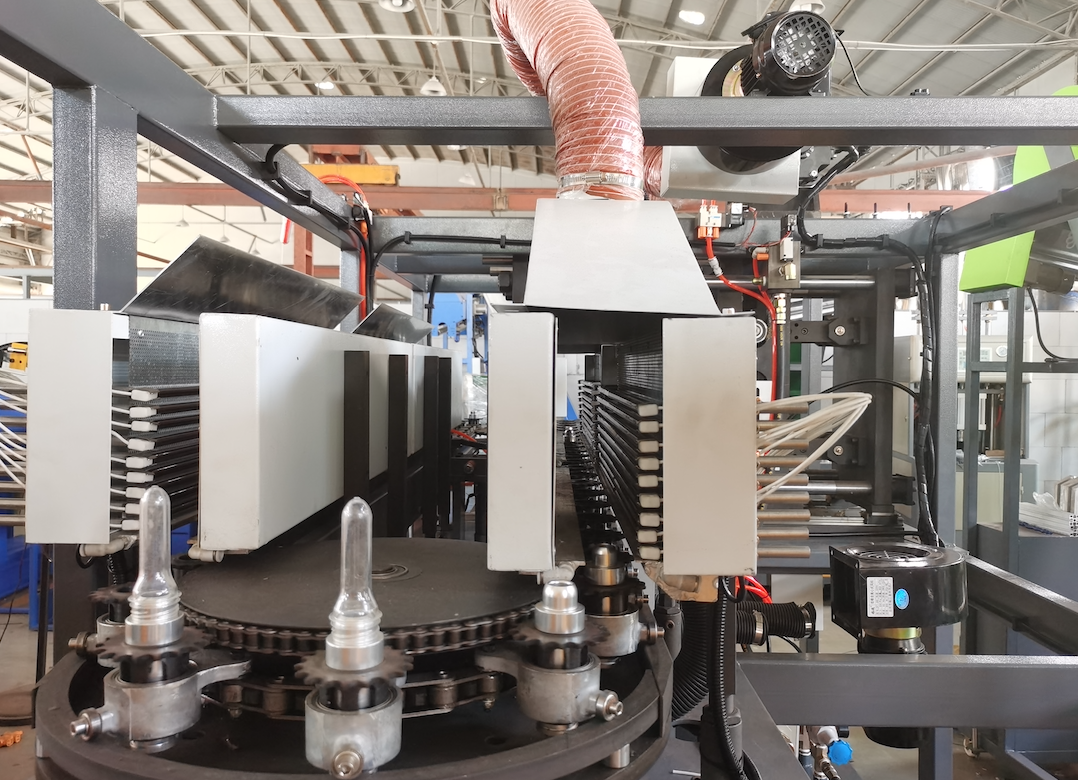 3. Preform Transfer
Servo-driven system:More precise and faster to transfer preform.
Special chain and chain connection guarantee chain system precision and extend chain system lifespan.
Self-lubricating bushing and sealed bearings.
Quick change of robot clips, mould & star-wheels(tool-less) for different bottle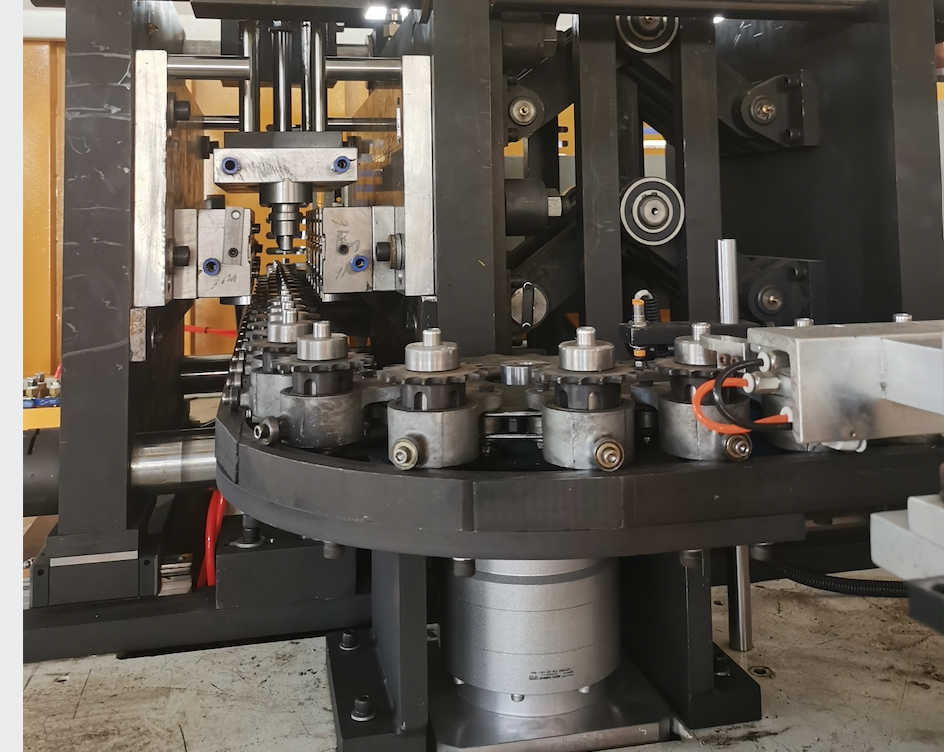 4.Clamping & Stretching System
Toggle structure & pressure increase device:Faster and stronger clamping to avoid disconnected parting surface.
Combination valve:Faster air inlet and very quick air exhaust.
Individual cavity blowing, individual cavity stretching, individual cavity pre-blow are all separately adjustable.
Inbuilt bigger air tank for higher output
Unique low pressure air pressure monitor
Special solenoid valve to cut power and outlet all air for safety is installed.
To save energy and to avoid adverse effect on neighbouring cavities, relevant cavity does not blow if no preform in that cavity.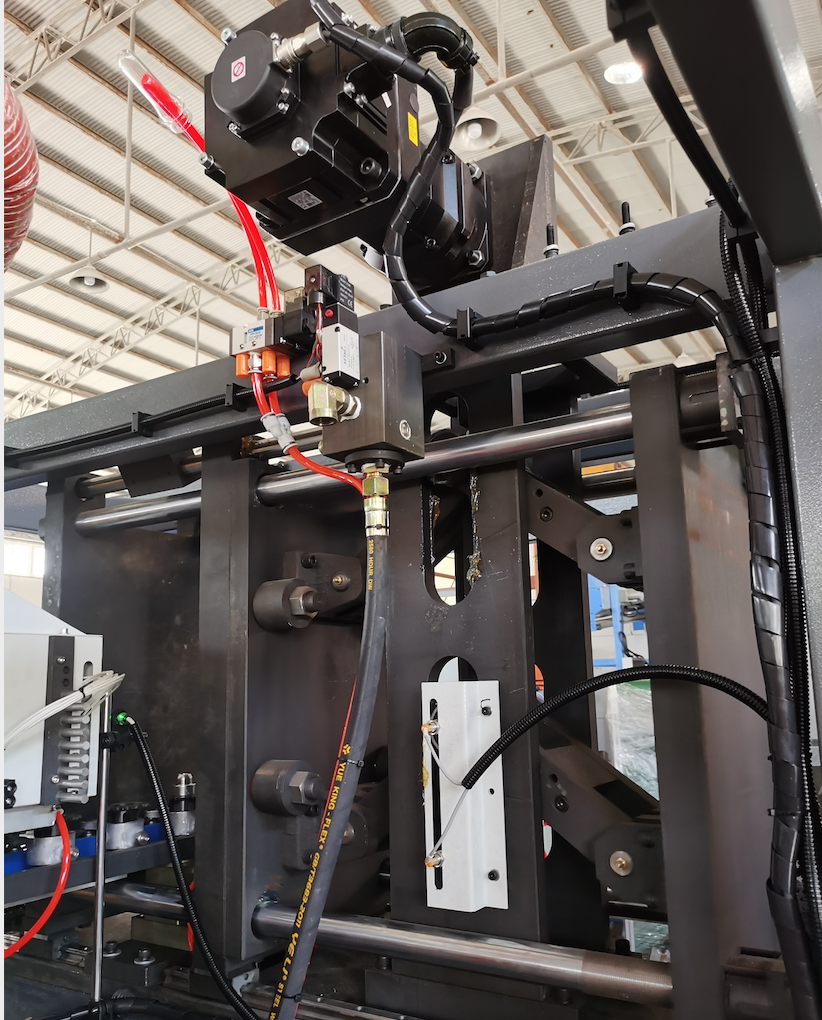 5. Bottle Ejection
Pneumatic cylinder for bottle discharge.
Discharge on wind channel or belt conveyor.
Technical Parameters-HP-L series

CLAMPING SYSTEM
Model
Unit
HP-L4
HP-L4M
HP-L6
HP-L6M
HP-L8
Cavity Quantity
cavities
4
4
6
6
8
Clamping Force
KG
40000
48000
56000
65000
96000
Mold Stroke
mm
90
125
90
125
90
Stretching Rod Stroke
mm
260
330
260
330
260
Stretching Rod Dia.
mm
12
12
12
12
12
Bottom Mould Stroke
mm
50
50
50
50
50
Pitch Distance
mm
76.2
114.3
76.2
114.3
76.2
Preform Holder Quantity
PCS
96
96
106
106
152
CONTAINER SPEC
IMax.Container Volume
ml
600
2000
600
2000
600
Max.Container Height
mm
260
350
260
350
260
Max.Container Diameter
mm
68
105
68
105
68
Max Preform Height
mm
100
140
100
140
100
Max.Neck Diameter
mm
38
38
38
38
38
Output
BPH
4200-4500
4000-4200
6500-7200
6000-6500
9600-10800
ELECTRICAL SYSTEM
Heating Oven Quantity
Zone
4
6
4
6
8
Number of Lamp
PCS
4*6
6*6
4*8
6*8
8*8
Heating Power
KW
48
72
64
96
128
Installed Power
KW
53
77
69.5
100
135
Voltage
Voltage
Customized
Customized
Customized
Customized
Customized
Actual Power
KW
25-30
30-35
30-35
45-50
60-70
AIR SYSTEM
Operating Pressure
Mpa
0.7-0.9
0.7-0.9
0.7-0.9
0.7-0.9
0.7-0.9
Blowing Pressure
Mpa
2.5-3.0
2.5-3.0
2.5-3.0
2.5-3.0
2.5-3.0
High Pressure Air Consumption
L/min
3.6/30
4.8/30
4.8/30
6.4/30
7.2/30
CHILLER SYSTEM
Temperature Range
Degree
9-13
9-13
9-13
9-13
9-13
Pressure
Mpa
0.4
0.4
0.4
0.4
0.4
Capacity
HP
5
5
10
10
10
MACHINE
Machine Dimension
M
3.9*1.5*2.2
3.6*2.2*2.2
4.0*2.1*2.2
5.8*2.1*2.2
6.0*2.1*2.2
Machine Weight
KG
3500
4500
6000
7000
8000